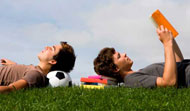 Collection of case studies of school students who succeeded in balancing school career with the passion for sport.
STUDENT INFORMATION

Name of the student:
Anabel Nekova

Country:
Bulgaria

Sport:
Basket
SCHOOL INFORMATION

Name of the School:
Professional high school of electronics and electro-technics "M.V. Lomonosov"

School Typology:
Vocational high school

Address:
31 Nikola Petkov Str., Gorna Oriahovitsa

Tel:
00359618/60618

Fax:
00359618/60618

Web site:
lomonosov-go.com

E-mail:
CASE STUDY

The Context:
I started with sport when I was 10. I went to play table tennis and it was quite interesting. But I felt that this is not my sport. One day we went with friends walking to school and there we watched how other kids play basketball and I decided to try. They began to show me how to play, what the rules are, how to shoot properly, etc. I think then my passion for sport started. I could not wait for the the next day to come and play basketball. And so till the age of 14 I was playing streetball with friends at school.
When I started studying in PGEE "M.V. Lomonosov" one of the teachers of physical education and the captain of the female basketball team came to me and asked me if I wanted to play for the team. I agreed, of course. The teacher asked me if I train at some club and if not, he advised me to start because I had potential. I joined a basketball club in the town and started training. All people around me supported me. Family, friends and most of the teachers.
Regarding sports facilities at school, I do not think they are very good, as our gymnasium is quite small and inconvenient for any sport. The outdoor sites are good, but in winter it's hard to play outside.
I'm not sure about the whole country, but especially in the area in which I live, I do not think young people are encouraged enough to play sports. Or even if they are it's rare.
I do not have much success in sports since I have not been involved so long. With my club team we have won the first place of Republican competitions, I we have also won second places in street ball.

Balancing Sport and Education:
My grades in school are excellent - 5.75. Daily I spend 3-4 hours for sports. Studying I spent as much time as necessary, but no more than two hours. I very rarely felt so busy with sports not to have time to study. I think if I did not train my success in studying would have been the same.
I do not know how I balance sports and studying, I just arrange all so that I have time for both. All you need is to make a schedule, check what there is to study for school; if you have tests and when are your trainings. You'll see if you can combine them in any way. If not, then you will have to decide what is more important - to learn and to have good grades or to go to training and when the important day of tests come to be not excellent but properly prepared.

Future Perspectives:
I do not know what my plans for the future are. If I continue with sports, it certainly will not be in Bulgaria because I do not think here there are great opportunities for sports. Another thing I consider is going to the University of arts and theater as cinema and theater really attract me.