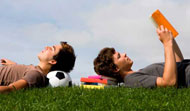 Collection of case studies of school students who succeeded in balancing school career with the passion for sport.
STUDENT INFORMATION

Name of the student:
Khaldoun Al Hussein

Country:
France

Sport:
Martial Art
SCHOOL INFORMATION

Name of the School:
Lycée Notre Dame du Tilleul

Address:
48 place de l'Industrie 59600 Maubeuge

Tel:
0327530310

Fax:
0327530319

Web site:

E-mail:
CASE STUDY

The Context:
- My love for Martial Arts started at the age of 13.

- My teachers and friends really support me. I am quite independent in the way I organize my sport schedule and that allow me to create bonds with others. Sport at school gives me more self-esteem and improves my grades.

Balancing Sport and Education:
- I dedicate 4 hours a week to sport.

- I have 34 hours a week of classes.

- I'm starting competition next year
I'm sure that sport has a positive impact on my school success.

Future Perspectives:
I want to begin competitions and get ready for them.

My professional project is to work in the automobile sector.