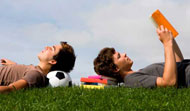 Collection of case studies of school students who succeeded in balancing school career with the passion for sport.
STUDENT INFORMATION

Name of the student:
Joshua Davenel

Country:
France
SCHOOL INFORMATION

Name of the School:
Institut Lemonnier

School Typology:
Lycée général et technologique

Address:
60 rue d'Hérouville CS 80269 14000 Caen

Tel:
0231467200

Fax:
0231440696

Web site:
www.institut-lemonnier.fr

E-mail:
CASE STUDY

The Context:
- I started playing Hockey at the age of 2 and a half because my family really is into that sport.

- My coaches from the Caen Team, my parents and my teachers really support me.
My family helps me financially and at a psychological level. The CESARS organization helps me to combine training and school work, plus private tutoring.

- This sport clearly promotes social links.

- My school doesn't own a skating rink so that sport infrastructure is not adequate for me.

- Sport at school is a good thing but when you're already having 3 or 4 hours a week in a club, it is quite a lot.

- I have no problem concerning the practice of my sport.

Balancing Sport and Education:
- I dedicate 10 or 12 hours a week to sport.

- It depends on my free time but I study between 30 minutes and 2 hours each day.

- At 17 I joined the DRAKKARS professional team with whom I practice everyday.

- Sometimes, I feel really tired and I have trouble staying focused.

- I think that my grades would be better without this sport activity, but hockey is my passion and I need it.

- I don't really know how to find a balance between school career and sport activity. I just found it in secondary school, I guess.

Future Perspectives:
- I would love to play in an ice hockey professional team.

- I think it is better to have a plan for my school career (such as a BTS) in case of injury, for example. But I don't really know what I want to do.