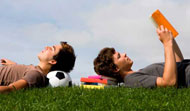 Collection of case studies of school students who succeeded in balancing school career with the passion for sport.
STUDENT INFORMATION

Name of the student:
Antoine Carrée

Country:
France
SCHOOL INFORMATION

Name of the School:
Lycée Jeanne d'Arc

Address:
61 rue la fontaine 35700 Rennes

Tel:
0299843030

Fax:
0299380912

Web site:
www.lycee-ja-rennes.org/

E-mail:
CASE STUDY

The Context:
- My love for kayaking started quite late, at the age of 13. Before that, I practiced kayaking but as a hobbie, only once in a while with my dad. At 14, I started to practice more intensely.

- My family has always supported me. They are essential to my success. My dad knew the pressure of kayaking and was very helpful. They also are here to remind me the importance of school and college. My friends with whom I practice are also here for me. Even if we are in competition, our friendship is strong and it helps us to become better. I also have many friends who don't know anthing about this sport, and I think it is a good thing because there is a balance between sport and everything else.

- My teachers also help me to succeed in sport but in my studies as well. In our school, we have the chance to be able to do sport at a high level. Sometimes, teachers think that sport stands in the way of studies, this is the reason why I decided to enroll in Jeanne d'Arc high school. It seemed to offer a more attractive conciliation between sport and studies.

- I think there could be a field for handball and basketball and a big room for multisports in my school. But it is situated in the city center so I understand the difficulties to find money and a place to build that field.

- We need at least 2 hours per week of sport at school. Sport allows students to communicate in a different way and to express themselves. Moreover, we can discover new sporting activities.

- I think young people are encouraged to practice sport in France, but as a hobbie (once or twice a week), and not at a high level because, once again, it appears as an obstacle for many teachers. Some high schools offer more sport hours (at a high level) but they seem to have worse success rate.

Balancing Sport and Education:
- I dedicate 15 hours a week to sport (2:30 per day and a day off)

- I study 2 hours each day at home.

- I arrived 3rd at a junior championship in 2013. And I also have a junior double champion title (2014). I took part in international tournaments.

- Kayaking had a really good impact on my studies. Indeed, I learnt to be organized and to listen carefully to my teachers. When I was in year 11, I had trouble dealing with both my passion and my studies. I gave priority to sport and my grades began to be quite bad. But I learnt from this bad experience, and now I try to give more importance to my studies, even if it is quite difficult.

- I think sport and studies are inseparable. I need sport to stay focused in class.

- The keyword to find a balance between sport and studies is organisation. You have to deal with a precise timetable, to find hours for studying and hours to practice. My parents also help me lot and tell me what my priorities are.

- I think that schools and teachers should consider sport as an asset and not a factor of school failure. The French should take their inspiration from the Americans who dedicate many hours to sport and who find a way to reconcile sport and school career.

Future Perspectives:
- I really would like to be on the senior French team. I know I have to practice more but I am ready to do so.

- I want to obtain a Masters and work in sport events.