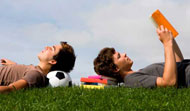 Collection of case studies of school students who succeeded in balancing school career with the passion for sport.
STUDENT INFORMATION

Name of the student:
Kévin Caron

Country:
France

Sport:
Gymnastics
SCHOOL INFORMATION

Name of the School:
Lycée Ozanam

Address:
50 rue Saint Gabriel 59045 Lille Cedex

Tel:
0320219650

Fax:
0320060542

Web site:

E-mail:
CASE STUDY

The Context:
- My love for sport began a long time ago because I started gymnastics at the age of 3.

-I wanted to do exactly like my sister so she was the one who inspired me. My parents come to every tournaments and my dad is also my coach. At school, my sport teachers allowed me to take part in school championships and to follow national formations.

-We don't do gymnastics at school but we have many facilities such as an incredible climbing wall.

-Sport at school is a way to relax and to discover new sorts of sports, such as climbing, and I really enjoy it.

-I think that sport is quite developped in France. You can easily find a sport club near your house. But then, I don't know if young people find enough motivation to practice. I think it depends on their families and how they support them.

Balancing Sport and Education:
- I have 7 hours a week dedicated to sport.

- I study at least 1:30 everyday.

- Sport has already given me many opportunities because I have taken part in French championships and I was on the podium.

- Sport grants me many things. Gymnastics are a rewarding activity and allow me to bond with others. I also learnt to be organized, both for training and studying. I need to be really organized if I want to do both. I have to accept some sacrifices sometimes.

- My grades at school would not be better without sport because I need to practice, to move and to relax. A life without sport would not be a good life ! I know exactly when I have to be serious, when I have to study, and I know that for now, it is the priority.

- It would be nice if school ended a bit earlier everyday so we could have more free time and so everybody could practice sport.

Future Perspectives:
- For now, I just want to have my Baccalauréat (High school certificate). Then, I think about an engineering degree because I would like to create new computer software.

- I hope I can do another gymnastics season and why not be on a podium once again !