STUDENT INFORMATION

Name of the student:
Alessio Coppi

Country:
Italy

Sport:
Swimming
SCHOOL INFORMATION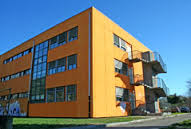 Name of the School:
IPS Datini

School Typology:
Vocational

Address:
via di Reggiana 26 Prato

Tel:
0574 630511

Fax:
0574630411

Web site:
www.datini.prato.it

E-mail:
CASE STUDY

The Context:
My passion for swimming was born when I was a child, when my father used to take me to the pool to play in the water. Sometimes I felt really forced to swim. From swimming I passed to waterpolo, always supported by my father. I started to swim when I was six years old, and I started waterpolo at a competitive level in 2012.
I've always been supported by my family, my father in particular, and this, step by step, created a real passion for waterpolo.
Hopefully, our school has very good sport equipment: it has a gym and a football field, which is not very common.
Maybe the teaching of Physical Education at school must be reconsidered in different ways. I think that nowadays in Italy young people are not really supported to practice sport activities, unless they have very supportive families. In addition, most guys are inclined to practice football, as it's the most popular sport.
There are a lot of, maybe too many, boys and girls who have never praticed any sport.

Balancing Sport and Education:
It's not easy at all to balance sport and school, especially when we play at competitive levels. The main problem is managing time: sport occupies a long time and, the time which remains, is usually devoted to studying.
A strong resolution is necessary.
I usually spend little time on studying, because our vocational school requires a long time also for the participation to events and workshops.
Every day I spend about two hours or sometimes more on sport, usually in the afternoon or in the evening, in order to prepare the weekly match. Waterpolo is a team sport, so we have to train during the week for the match, listening to the coach and forming relationships with other players.
Probably my school performances would have been better without sport activity, but I'm not completely sure. The balance between school/sport obliges me to keep to fixed timetables, which I'm forced to respect.
It's difficult to think about a way to successfully balance school/sport, especially here in Italy, where school always comes first. Teachers should be more understanding and sympathetic.
My suggestion to achieve a better balance between school career and sport activity is that here in Italy we should learn something from other countries, where colleges with good sport infrastructures and equipment welcome those students who want to study and practice sport at competitive levels.
Another suggestion could be that of giving more relevance to sport, we cannot consider only football or similar for importance.

Future Perspectives:
I don't know exactly what I'm going to do when I finish school, but I have some ideas.
I would like to get my final degree at school ( I am attending the fourth year so I am near…)
I hope I can continue to play waterpolo, increasing my performances. In the future I'll probably think about a job, so I will balance work and sport, as it's possible.