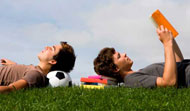 Collection of case studies of school students who succeeded in balancing school career with the passion for sport.
STUDENT INFORMATION

Name of the student:
Alessio Cammisa

Country:
Italy

Sport:
Martial Art
SCHOOL INFORMATION

Name of the School:
Istituto Istruzione Superiore Rita Levi-Montalcini

School Typology:
Technical

Address:
Corso Carlo Marx, 2 - Acqui Terme

Tel:
0144312550

Fax:
0144311708

Web site:
www.iislevimontalcini.it

E-mail:
CASE STUDY

The Context:
- Since I was four and a half because my uncle was an instructor. I tried it, my parents encouraged me, and so I began. ASD Centro Karate-Judo, Acqui Terme (AL)
- Yes, absolutely. Friendships are made because you communicate in a different way – through the "language" of sport
- To practice my sport, no. For other activities, yes
- I think so, at least to first approach a sport, then, to continue you need determination.

Balancing Sport and Education:
- About four to five hours a week
- One hour a day at the most.
- This year I'm regional champion and I came in 4th at the national qualifications. Black Belt (1°)
- I'm a model student, I participate with great interest in every type of activity or project at school .
- Sport has helped me because through it I've learnt to balance my school commitments and manage emotional stress.

- In my opinion, no. Excessive study would not produce the desired effect.

- I easily balance the time devoted to my school and sport obligations.

- It's not easy. To those who don't practice a sport I would recommend taking up a sport and training at least once or twice a week because it helps you to grow and mature.

Future Perspectives:
- As far as sport is concerned, I would like to become a Karate instructor, I've already had a bit of experience with elementary school children. Regarding my education, I certainly want to continue, but I still don't know in what field.