STUDENT INFORMATION


Name of the student:
Matteo Cipriani

Country:
Italy

Sport:
Football
SCHOOL INFORMATION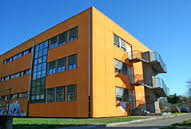 Name of the School:
IPS Datini

School Typology:
Vocational

Address:
Via di Reggiana 26 Prato

Tel:
0574 630511

Fax:
0574 630411

Web site:
www.datini.prato.gov.it

E-mail:
CASE STUDY

The Context:
As a child both of my parents wanted me to do sports. They thought it was good to do sports from an early age to prevent physical problems. Also, doing sports since I was very young helped to better relate with the others. My mother's family certainly helped me a lot: my grandfather always followed me when I when to play matches and for workouts, and I cannot forget my two grandmothers who took me to training even when the field was just behind my house.
I think that sport infrastructures of my school could be improved, and Physical Education could be strengthened. The young must be more encouraged by all actors to practice sport, even through school.

Balancing Sport and Education:
Certainly at school, especially in the last two years, my classmates were a great help, for example when I was away for sport activities I spent hours on the phone to ask them about school and they always explained everything to me. Even the teachers gave me a big hand for tasks, homework and queries. If something went wrong I could recover without problems. As far as teachers I was lucky to meet two professors who were very important to me and points of reference not only from the school point of view, but especially for their being so sympathetic and helpful, since they are the only two who really understood the sacrifices and the hard work I was and I am still doing.
My time for study is affected by sport activities , and I try to schedule time balancing sport and study, especially I try not to stay too far behind in the study. The school day is already very challenging, with an average of 34 hours a week, and then finding a couple of hours daily for studying is never so easy. In this school year, my football team's managers switched me from the youth team to the first team, so the commitment was even greater, with training camps and more challenging training.
It is not easy to combine sport and school, but for the moment I'm happy also for school results, I always got good marks in the last three years and in view of the final examination prospects are satisfactory.
In the football world, luckily, I met people - managers and coaches – who, before searching for the player saw the guy who had to study to get a diploma. This allowed me to skip some workouts for school reasons, and it has never been a problem. Even the "older", the "experts" guys of the team often ask me how I can manage football and school, how it goes, if I can do it and so on. I still play sports and go to school at the same time, because in the world of sports you never know: one day you're at the top and another day you're down. But, even if you're a real champion, the sporting life will be fine up to 40 years of age, then even the best careers come to an end and you must be able to have something else to do. The procedure that still allows me to combine these two elements is the "pact between people of common sense" between my football team and the school. My football team, whenever I have to skip school because of football commitments, send to my school a document containing the sport reasons why I am exempted from school on some days. The school, for its part, is always trying to keep me informed on the activities and considers this commitment to sport training as equally important.

Future Perspectives:
My most immediate project is to get a good grade at the school final exam. In fact, I got a good mark just in these days (80/100)
As far as sport is concerned, my goal is to continue to gain experience, which does not depend only on me, but on the football team's leaders and managers. I do not exclude the possibility to continue studying at the university, perhaps something connected with sport.
On this website you can find news about this student/goalkeeper's profile
http://www.transfermarkt.it/matteo-cipriani/profil/spieler/281829