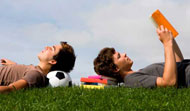 Collection of case studies of school students who succeeded in balancing school career with the passion for sport.
STUDENT INFORMATION

Name of the student:
Santtu Tiitinen

Country:
Finland

Sport:
Hockey
SCHOOL INFORMATION

Name of the School:
OSAO - Oulu Vocational College

School Typology:
Vocational College

Address:
Kotkantie 2 C, Oulu, 90250

Tel:
+ 358 40 141 5141

Web site:
www.osao.fi

E-mail:
CASE STUDY

The Context:
My passion for icehockey started in 2004 (I was 4 years old), my brother and my father went at that time to icerink and I went with them. Also when I was even younger I watched all day hockey videos.
My parents took me to icerink because I wanted to go playiong icehockey and they gave me all support to play. I was first of my friends who started to play and then they started after me.
yes, I think that sport helps to better relate with others: Specially team sports because you have to listen to the others and give them respect.
- I think that here should be more sport infrastructure at school. Older you get, less there are posibilities to play anykind of sports.
- I think that the PE at school is good because there are many people who don't do anykind of sports at home so they have to do it at school. And it is good for those people, too, who play some kind of sports can't just be in school for many hours without doing any kind of sport.
- Definitely yes, young people are encouraged to practice sport in Finland!

Balancing Sport and Education:
I'm dedicated to sport about 15h per week, and to studying about 20h per week. When I was younger I wanted to play on the highest level of my age in Finland and that's what I've achieved.
I've founded that you really have to do work to balance sports and education.
Playing hockey has limited a little bit my school career. I don't think it would be better because I've also learned some helpful skills because of playing sport. I have double homework because I can't go to every lesson. I don't have any suggestion because my both careers support each other.

Future Perspectives:
I want to move fast as possible to North America because I want to know what is it like there.