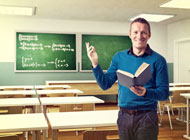 Teachers of all subjects can contribute to promote sport at school
How to integrate sport and healthy lifestyle approaches into the students' educational pathways
Teacher of All Subjects

6. The use of technologies to further promote Physical Education, Sport and Physical Activity
This chapter provides examples of how the use of technologies can further support the delivery of PE, Sport and Physical Activity, and other curricular areas.
There a number of great tools and resources to help PE (and other curricular area) teachers make better use of technology in their lessons. Professional coaches have been using cutting edge technology to train athletes and mobile devices now make it possible for schools/colleges to use these kinds of applications at a fraction of the cost and with greater access.
With the rise of mobile devices and app based learning, there is an enormous selection of affordable tools for teachers to choose from such as apps for video analysis, replay, tagging, assessment, health tracking and so on. The ability to have all of these tools on one device that fits in your hand has transformed the ability to use technology in site. The demand for technology integration is not limited to the traditional classroom and is expanding to other core curricular areas.
Learning Objective
• To promote the further use of technologies in physical Education, Sport and Physical Activity.
• To provide a resource that supports teachers from PE and other 'core' subjects in their planning and delivery of learning, teaching and assessment..
Online Resources
Mobile Apps