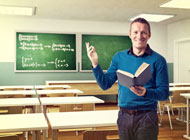 Teachers of all subjects can contribute to promote sport at school
How to Motivate Students Only Interested in Sport to Improve their School Performances
Teachers of All Subjects

6. Help the student in case of failure
Failure is never inevitable, in sport nor at school. Any result has an explanation, related to a bad physical condition, lack of technique or simply lack of motivation. It is important to be available and to listen to the student.
Remind the student how important preparatory work is before a deadline. Sport analogies, such as those given as examples in Step 3, could be used to motivate the student who does not see the point of studying.
Encourage the student and increase their self-esteem emphasising their strengths and successes. Propose remediation (update, catching up), homework support, individual follow-up, review their timetable. There are sometimes homework clubs specifically addressed to athlete students. Some sport clubs also offer premises at the sport halls for homework support and homework clubs. Be aware of such opportunities and encourage the students to make use of this help.
Other classmates, in particular athlete students who succeed at school, could also provide support. There might also be a possibility to get help and support from other (elder) athletes who have passed the same training program and are practicing the same sport.
If the student's current section does not seem appropriate to their skills or aspiration, propose a change of section. Consider a sport-study section if one is available in your school and the student is not part of it.
Learning Objective
The learning objective of step 6 is to remind the fact that there should be various mechanisms to support the student in case of a failure that could be either related to studies or to sports. The school should be able to offer help and support that may be different in each case.
Online Resources