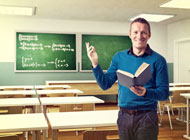 Teachers of all subjects can contribute to promote sport at school
How to Motivate Students Only Interested in Sport to Improve their School Performances
Teachers of All Subjects

10. Make use of digital learning solutions (materials and methods)
There is a lot of digital learning material available on the internet and also in schools platforms and official education websites. Help students use these materials as a support for their studies. Especially during the training camps and game tours it would be good to provide the students with some additional or supporting learning material in order to keep them in the study rhythm.
You can also use digital tools and media for communication when the student is absent from the classes, if possible (e.g. mobile phones, iPads, chats etc.).
It is also recommendable to reflect on the use of digital device for the follow up of everyday physical activities: games and monitoring device may increase students' motivation for monitor their own performances. There are several European and national funded projects that promote the awareness of this approach.
Finally, digital tools can be used to organise one's schedule. Different functions like reminders of the tasks, activities, tests etc. can be used to help when organising everyday school and sports activities. They may also be used as tools for the follow up of physical performances: some tools can even be used in an interactive way: the program may give feedback to the registered results: they may congratulate or ask for more performances.
Learning Objective
The learning objective of step 10 is to get acquainted and learn how to use digital solutions and show students how to use them to support their learning and physical activities.
Online Resources