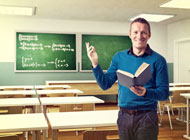 Teachers of all subjects can contribute to promote sport at school
How to integrate sport and healthy lifestyle approaches into the students' educational pathways
Teacher of All Subjects

8. Communication strategies towards families
Communication with families does not only involve sharing passion for sports beyond school curriculum (in that case great attention is paid to a correct and balanced lifestyle) but it also calls for training families on topics related to the whole growth of the student both in his sports and school performances. By involving families in the process of planning school activities necessarily leads to the discovery of new methods, an interesting opportunity of gaining information and training.
Teachers should learn how to communicate with those students particularly passionate about sports. Parents, coaches, teachers of other subjects and the students themselves need to discuss what can be done to balance sports without reducing the quality of academics. Parents can foster communication with their child by working, for example, to maintain a family meal schedule, at least a few days a week. Coaches and educators can meet to discuss their needs and scheduling. An effective communication can help to ensure that the students can successfully balance sport and academic study without feeling overwhelmed.
Learning Objective
The aim of this step is to provide useful suggestions for an efficient communication between family and school as far as life skills connected to sports are concerned, focusing particularly on relational and communicative competences. Communication with families plays a vital role every time a student feels unmotivated to carry out his studying or does not completely settle in the school environment. PE can, we believe, stimulate a series of skills and resources useful to overcome such situations.
Online Resources