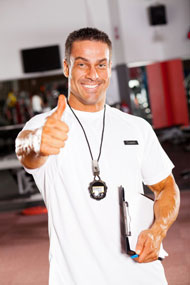 They are the main point of reference for students at school
Back to the Physical Education Teachers Toolkits
Sport as a Mean of Social Inclusion, Including Communication Strategies with Parents
A Toolkit for Physical Education Teacher

7. Use a student-centred approach
When planning an inclusive program Physical Education teachers should, first of all, take into account students' needs and motivation, then according to the social structure of the classroom, they should propose suitable activities. To meet each student's needs, teachers should
• offer a wide range of activities
• be flexible and responsive
• change instructional strategies if needed
• adjust instruction when students need to re-focus
• provide feedback and use checklists to support feedback

In order to foster social inclusion, Physical Education teachers should
• enable students to develop respect for other students and for other students' performances
• help students share their ideas

Parents should be involved in the educational programming and support programs. Parents' points of view could be investigated through a survey.
Learning Objective
The activities proposed in this step aim at engaging students and encouraging students to reflect on what they are learning...
Online Resources