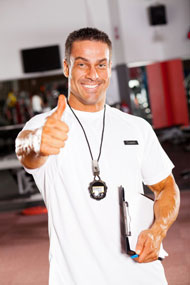 They are the main point of reference for students at school
Back to the Physical Education Teachers Toolkits
How to Promote Less Popular Sports
Physical Education Teacher

3. Communication with parents
This step supports the idea that pupils do better in school when parents become involved in school activities and there is good communication between teachers and parents. PE teachers will learn about a range of ways that parents and teachers can communicate with each other. Establishing close communication with parents will help PE teachers better understand their pupils, and, as a result, better support them.
Parents are a great ally in our efforts to promote youth physical activity. PE teachers will get familiar with several ways of reaching and getting parents involved in PE classes and activities through thoughtful fliers, newsletters, emails and feedback to promote school programs. Parents' involvement varies from giving their consent to their offspring's participation in competitions to attending school sports events or participating in sports activities organized by schools. Parents play a vital role in the health of their children and can strongly influence the choices they make at school. Making good choices regarding physical activity leads to improved student health — and healthier students are better learners. Other ideas include recruiting parents to volunteer at sports events or to just have them visit a physical education lesson and participate with their children. These strategies allow PE teachers to promote physical education during school and outside of school with the adults who are most influential in the lives of youth.
Learning Objective
The learning objective of this step is to provide a range of ways that parents and teachers can communicate with each other.
Online Resources