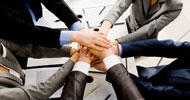 As a result of the exploitation activity a number of associated partners officially joined the project in order to contribute to the improvement of the project impact on their target groups, and to ensure the project sustainability by continued use of the project deliverables over the next years.

The associate partners of the Not Only Fair Play project are organisations interested in the promotion of sport at school. All associated partners share the project objectives and are willing to contribute to their achievement.

Institutions and organisations interested in becoming associated partners of the Not Ony Fair Play project can contact the national coordinators of the project.
Back to the Associated Partners
NAME OF THE ORGANISATION
LV Sport Agency
TYPE OF INSTITUTION
Sport Organisation
ADDRESS
99 Simeonovsko shose blvd., entr. B, floor 2
NAME OF CONTACT PERSON 1
Venelina Tsvetkova
EMAIL OF CONTACT PERSON 1
BRIEF DESCRIPTION OF THE ORGANISATION
The agency focuses on organizing and participating in sporting events. The activities of the agency include:
- organization and participation in seminars, courses for teaching purposes to promote various sports and sporting disciplines;
- supporting young talents;
- building networks with other organizations at regional, national and international level for the development of sport and physical education;
- construction and management of sport facilities;
- promotion of sport, and conducting attractive sports competitions and show programs;
- representation of foreign companies and sport agencies for promotion of sports equipment.
HOW THE ORGANISATION WILL CONTRIBUTE TO THE DISSEMINATION AND EXPLOITATION OF THE PROJECT RESULTS
The organization will support the Bulgarian partner and the project partnership with dissemination of information about the project among its network of partners. LV agency will also support the teachers in schools it is working with, in testing the toolkits, developed under the project and implementing them in their own practice of physical education and sport development in schools.