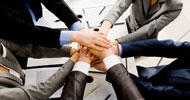 As a result of the exploitation activity a number of associated partners officially joined the project in order to contribute to the improvement of the project impact on their target groups, and to ensure the project sustainability by continued use of the project deliverables over the next years.

The associate partners of the Not Only Fair Play project are organisations interested in the promotion of sport at school. All associated partners share the project objectives and are willing to contribute to their achievement.

Institutions and organisations interested in becoming associated partners of the Not Ony Fair Play project can contact the national coordinators of the project.
Back to the Associated Partners
NAME OF THE ORGANISATION
PROSPER-ASE Centre
TYPE OF INSTITUTION
Association
ADDRESS
11 Tache Ionescu, 2nd floor, suite 8204
NAME OF CONTACT PERSON 1
Corina Grigoriu
EMAIL OF CONTACT PERSON 1
BRIEF DESCRIPTION OF THE ORGANISATION
Established in 1994 with the assistance of the British Council Romania and the Academy of Economic Studies Bucharest, PROSPER-ASE has been the first language centre of this type in the country. From the very beginning, it has been actively involved in promoting European values and initiatives, so as to meet the ever-growing demand for professional communication, through high quality services in the fields of language training and testing, with the specific aim of assisting Romania's EU integration process.
PROSPER-ASE promotes strategic co-operation links with university departments, with all the QUEST Romania member centres, with other national associations in the region, as well as with ministry departments, language teachers' associations and other like-minded partners, co-organising teacher training programmes, teacher development events, national and international conferences, etc..
Through the professional network of networks, consolidated over more than a decade, PROSPER-ASE can contribute to enhance the effectiveness of synergies among projects and different categories of institutions (both public and private), so as to contribute to better valorisation of project outcomes, addressing new target audiences, adapting the instruments and dissemination processes to new contexts.
HOW THE ORGANISATION WILL CONTRIBUTE TO THE DISSEMINATION AND EXPLOITATION OF THE PROJECT RESULTS
Dissemination of the project to the association members and contacts - directors of studies and teacher trainers and students of Academy of Economic Studies Bucharest. Promotion of the project.