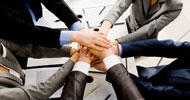 As a result of the exploitation activity a number of associated partners officially joined the project in order to contribute to the improvement of the project impact on their target groups, and to ensure the project sustainability by continued use of the project deliverables over the next years.

The associate partners of the Not Only Fair Play project are organisations interested in the promotion of sport at school. All associated partners share the project objectives and are willing to contribute to their achievement.

Institutions and organisations interested in becoming associated partners of the Not Ony Fair Play project can contact the national coordinators of the project.
Back to the Associated Partners
NAME OF THE ORGANISATION
Klub Sportowy "Bombardier" Gdynia (Sports Club "Bombardier" Gdynia)
TYPE OF INSTITUTION
Sport Organisation
ADDRESS
81-331 Gdynia, ul. Lelewela 9b/17
NAME OF CONTACT PERSON 1
Jarosław Rydzewski
EMAIL OF CONTACT PERSON 1
NAME OF CONTACT PERSON 2
Dariusz Gumowski
BRIEF DESCRIPTION OF THE ORGANISATION
Sports Club "Bombardier" Gdynia was founded by the group of boxing enthusiasts, who have at heart the good of this sport discipline. The founders of the club are Jarosław Rydzewski and Dariusz Gumowski - currently the most titled boxing trainers in Tri-City. Their athletes won 40 medals at the championship level events (ranging from youngsters to seniors).
HOW THE ORGANISATION WILL CONTRIBUTE TO THE DISSEMINATION AND EXPLOITATION OF THE PROJECT RESULTS
- Exchange of knowledge and experience during and after the completion of the project
- Participation in the dissemination of information about the project
- Promotion of information about the project among the cooperating institutions
- Participation in the use and ensuring the sustainability of the project results