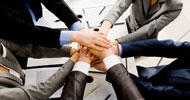 As a result of the exploitation activity a number of associated partners officially joined the project in order to contribute to the improvement of the project impact on their target groups, and to ensure the project sustainability by continued use of the project deliverables over the next years.

The associate partners of the Not Only Fair Play project are organisations interested in the promotion of sport at school. All associated partners share the project objectives and are willing to contribute to their achievement.

Institutions and organisations interested in becoming associated partners of the Not Ony Fair Play project can contact the national coordinators of the project.
Back to the Associated Partners
NAME OF THE ORGANISATION
Artes associazione culturale e A.S.D.
TYPE OF INSTITUTION
Association
ADDRESS
Via Urbano Rattazzi 47
NAME OF CONTACT PERSON 1
Pietro Paola Pagella
EMAIL OF CONTACT PERSON 1
Patrizia Campassi
BRIEF DESCRIPTION OF THE ORGANISATION
Artes is a dance, music and theatre school directed by Patrizia Campassi. It represents a point of reference for children, teenagers and young people. Through a specific educational path, it contributes to the formation of individuals and potential artists.
A specific, high-level educational path is essential in the study of the three disciplines. Experienced teachers and the artistic and educational directors are responsible for enhancing the curiosity and joy of learning within a group in order to promote integration and interaction with each other and achieve a collective artistic result.
Within Artes, the educational and artistic ensemble "Artescena" was crated. Artescena deals with the dissemination of the three forms of art, it proposes and implements the collaboration among artists with different backgrounds. In this project Dance, theatre and music merge.
Patrizia Campassi is the Artistic director of the dance section she is a dancer, choreographer,a teacher she graguated from "Teatro La Scala" and for more then 16 years she worked as a professor at the preparatory course for classical-academic dance in the school of dance of the theatre
Prof. Pietro Paolo Pagella is responsible for the music section. He is a teacher and worked as a bass player on the symphony orchestra of Turin, at the Arena od Verona, at the theatre Carlo Felice of Genova and in other orchestras
He also worked as Artistic director at the "Campus Musicale ArteSuoni"