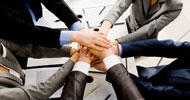 As a result of the exploitation activity a number of associated partners officially joined the project in order to contribute to the improvement of the project impact on their target groups, and to ensure the project sustainability by continued use of the project deliverables over the next years.

The associate partners of the Not Only Fair Play project are organisations interested in the promotion of sport at school. All associated partners share the project objectives and are willing to contribute to their achievement.

Institutions and organisations interested in becoming associated partners of the Not Ony Fair Play project can contact the national coordinators of the project.
Back to the Associated Partners
NAME OF THE ORGANISATION
Ugsel, Sport Organization of the Catholic Education
TYPE OF INSTITUTION
Sport organization
ADDRESS
277 rue St Jacques 75240 Paris
NAME OF CONTACT PERSON 1
Denis Chazeaud
EMAIL OF CONTACT PERSON 1
BRIEF DESCRIPTION OF THE ORGANISATION
Ugsel, the sport federation of the Catholic Education aims to promote, direct and coordinate physical education and sports, recreational and cultural activities within the Catholic schools (1st and 2nd degrees).

As an organization of the Catholic Education, Ugsel is at the service of the schools thanks to a network of an institutional animation, by being at the heart of the institutions, by adapting the activities and by having an efficient communication. It angles towards a health and sanitation, as well as a citizenship, education and is part of an approach to difference and disability and the implementation of innovative sporting activities.
HOW THE ORGANISATION WILL CONTRIBUTE TO THE DISSEMINATION AND EXPLOITATION OF THE PROJECT RESULTS
Ugsel will accompany the project and promote to its network of adherents (committees, territories, associations) the information related to the project, thanks to its communication tools and supports. A bimonthly newsletter and the website will allow to promote the project in an efficient manner.