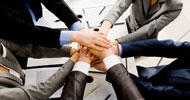 As a result of the exploitation activity a number of associated partners officially joined the project in order to contribute to the improvement of the project impact on their target groups, and to ensure the project sustainability by continued use of the project deliverables over the next years.

The associate partners of the Not Only Fair Play project are organisations interested in the promotion of sport at school. All associated partners share the project objectives and are willing to contribute to their achievement.

Institutions and organisations interested in becoming associated partners of the Not Ony Fair Play project can contact the national coordinators of the project.
Back to the Associated Partners
NAME OF THE ORGANISATION
D&A Sports Union
TYPE OF INSTITUTION
Sport Organisation
ADDRESS
Gardyne Road, Dundee, DD5 1NY
NAME OF CONTACT PERSON 1
Craig Nicoll
EMAIL OF CONTACT PERSON 1
BRIEF DESCRIPTION OF THE ORGANISATION
Formed in 2014, the Dundee & Angus College: Sports Union is now going into its second academic year of operation.

The Sports Union's 5 main areas of work are as follows:

Competitive Sport
Recreational Sport
Health & Wellbeing
Volunteering
CPD & Training
HOW THE ORGANISATION WILL CONTRIBUTE TO THE DISSEMINATION AND EXPLOITATION OF THE PROJECT RESULTS
Working closely with all academic areas the project aims alongside the aims of the Sports Union are very closely linked. By disseminating and exploiting the project results/findings we can support further growth of our Sports Union. Using best practise from around Europe we hope to integrate the Sports Union even further into college life at Dundee & Angus and the wider community.