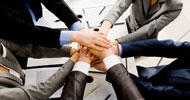 As a result of the exploitation activity a number of associated partners officially joined the project in order to contribute to the improvement of the project impact on their target groups, and to ensure the project sustainability by continued use of the project deliverables over the next years.

The associate partners of the Not Only Fair Play project are organisations interested in the promotion of sport at school. All associated partners share the project objectives and are willing to contribute to their achievement.

Institutions and organisations interested in becoming associated partners of the Not Ony Fair Play project can contact the national coordinators of the project.
Back to the Associated Partners
NAME OF THE ORGANISATION
Sport for Health Foundation
TYPE OF INSTITUTION
Sport Foundation
ADDRESS
81-731 Sopot, ul. Bitwy pod Płowcami 67
NAME OF CONTACT PERSON 1
Joanna Małaczyńska-Rentfleisz
EMAIL OF CONTACT PERSON 1
NAME OF CONTACT PERSON 2
Ewa Lewandowska
EMAIL OF CONTACT PERSON 2
BRIEF DESCRIPTION OF THE ORGANISATION
The main goals of the Foundation include:
- support, development and promotion of Polish sport, including youth sport,
- support, development and promotion of sport and physical education among people with disabilities, particularly among children and youth,
- dissemination and promotion of physical education and sport as prevention of the social pathologies,
- support and promotion of the sport clubsand sport organizations
- promotion of young players,
- education in the pro-health prevention, physical education and sport development.,
- dissemination of all forms of active recreation and healthy lifestyles in harmony with the environment,
- organization of workshops, seminars and conferences on topics related to the foundation goals.
HOW THE ORGANISATION WILL CONTRIBUTE TO THE DISSEMINATION AND EXPLOITATION OF THE PROJECT RESULTS
- Dissemination of information about the Not Only Fair Play project through the Foundation website.
- Promotion of the project among the cooperating institutions.
- Information about the possibility of using teaching materials developed in the Not Only Fair Play project during workshops for teaching staff organized by the Foundation.