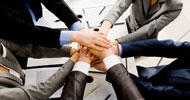 As a result of the exploitation activity a number of associated partners officially joined the project in order to contribute to the improvement of the project impact on their target groups, and to ensure the project sustainability by continued use of the project deliverables over the next years.

The associate partners of the Not Only Fair Play project are organisations interested in the promotion of sport at school. All associated partners share the project objectives and are willing to contribute to their achievement.

Institutions and organisations interested in becoming associated partners of the Not Ony Fair Play project can contact the national coordinators of the project.
Back to the Associated Partners
NAME OF THE ORGANISATION
Dundee Academy of Sport
TYPE OF INSTITUTION
Sport Educational Organisation
ADDRESS
Dundee Academy of Sport, Abertay University, Bell Street Dundee, DD1 1HG
WEB SITE
www.dundeeacademyofsport.com
NAME OF CONTACT PERSON 1
Ian Lowe
EMAIL OF CONTACT PERSON 1
BRIEF DESCRIPTION OF THE ORGANISATION
The Dundee Academy of Sport is a partnership between Dundee & Angus College and Abertay University that uses sport as a context for learning. To achieve this we work with around 90 schools to link the learning of academic subjects to the study or participation of sport. The aim of this work is to raise educational and sporting attainment. The project also supports the provision of summer sports camps across the city that provides exciting and inspirational sporting opportunities.

The project supports the education and training of sports students at college and university level whilst supporting the transition between the two levels of education.

Finally the project delivers a CPD programme for sports professionals that supports the delivery of sport and physical activity in the community.
HOW THE ORGANISATION WILL CONTRIBUTE TO THE DISSEMINATION AND EXPLOITATION OF THE PROJECT RESULTS
The Dundee Academy of Sport will disseminate the results of the Not Only Fair Play project through our website, through discussions with partners and stakeholders and through our teaching and learning activities with school pupils, teachers, and college and university students.