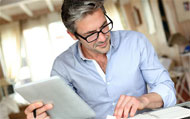 This section allows a constant communication and sharing of information among the project partners as far as the activities for the different intellectual outputs are concerned.

Each project partner uploads to this section on a three month basis.
Back to the Work in Progress List
click here for the printable version

Partners' Institution:
Dundee and Angus College

Project's period (from/to):
01 January 2015 - 31 December 2016

Activity concerned:
Transversal Activity 5: Exploitation

Objectives of activities carried out:
The exploitation report is produced for the final report and contains a detailed description and analysis of the exploitation activities carried out by the project partnership.

Description of activities carried out:
30/09/15

- D&A proof-read the English brochure
- Add links to project portal to D&A website
- Education authorities contacted

31/12/15
- Education authorities informed on project progress

31/03/16
- Reminded partners to link to the NOFP portal from their own sites
- Continued to push project through Twitter

31/03/16
- Reminded partners to link to the NOFP portal from their own sites
- Continued to push project through Twitter and now Facebook

31/09/16
- Reminded partners to link to the NOFP portal from their own sites
- Continued to push project through Twitter and now Facebook
- Press releases picked up and published to 40k+ circulation

31/12/16
- Project close

Outcomes:
Awareness of hte project is growing

Evaluation of the work undertaken:
Ongoing activity