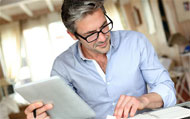 This section allows a constant communication and sharing of information among the project partners as far as the activities for the different intellectual outputs are concerned.

Each project partner uploads to this section on a three month basis.
Back to the Work in Progress List
click here for the printable version

Partners' Institution:
Foundation of Cultural and Business Potential of Civil Society (FDCBPCS)

Project's period (from/to):
01 January 2015 - 30 December 2016

Activity concerned:
Transversal Activity 4: Dissemination

Objectives of activities carried out:
The Dissemination strategy will involve all the project partners in the identification of the target groups, in the definition of who will be in charge of the different dissemination events, in the identification of timing, in the planning of activities to be carried out as well as of the relevant materials to be produced for this purpose.

All partners will also be in charge of involving the relevant key actors who will cooperate in the carrying out of dissemination as well as in the involvement of the relevant networks they belong to.

The Project dissemination strategy will be presented discussed and jointly adopted by the project partners.

All partners will contribute to the production of dissemination materials

Each partner will be in charge of carrying out an average of 2 dissemination activities each month), create the dissemination forms describing each activity, produce the progress and final transnational dissemination report

During the kick off meeting, partners identified the features of target group as follows:
- Physical education teachers in secondary schools.
- Teachers of other subjects in secondary schools.
- School directors
- Policy makers in the field of education and sport
- National, regional and local Sport comittees
- Sport Association staff

In the framework of this TA the Foundation has to carry out the following activities:
- Support the coordinator in maintaining the Facebook project page alive;
- Support the creation of the Project brochure in English, and translation in Bulgarian;
- Dissemination activities
- Creation of the dissemination reports
- Creation of the transnational dissemination report

Description of activities carried out:
So far the Foundation implemented 34 dissemination events of different type - informative mailing, articles in websites, newsletters,meetings.

Outcomes:
The dissemination events at the beginning of the project implementation were mainly focused on attracting target groups representatives to be involved. Dissemination reports after the first half of the project aimed at informing beneficiaries and stakeholders about project results and achievements. All dissemination reports are published on the project portal.

Evaluation of the work undertaken:
We consider the activities done satisfactory.