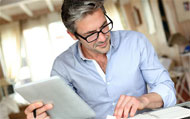 This section allows a constant communication and sharing of information among the project partners as far as the activities for the different intellectual outputs are concerned.

Each project partner uploads to this section on a three month basis.
Back to the Work in Progress List
click here for the printable version

Partners' Institution:
RENASUP

Project's period (from/to):
01 January 2015 - 31 December 2016

Activity concerned:
Transversal Activity 2: Management

Objectives of activities carried out:
All Project partners wil carry out the following activities:
• Participation in transnational meetings of the steering committee
• In progress reporting activities and delivery of yearly reports at progress and final stage
• Financial reporting
• Constant sharing of approaches, solutions, deliverables produced
• Circulation of information through e-mails and skype

The project work will be organized according to a structured and clear activities plan. The plans will describe each of the foreseen Phases and Transversal Activities organized according to objectives of the phases, activities to be carried out, formats for the carrying out of these activities and expected results.
For every Phase and Transversal Activity a clear definition of time schedule is made, indicating intermediate and final deadlines for carrying out each of the section's activities and delivering the expected outcomes.
Also, for every phase a detailed definition of partners' involvement and specific roles will be made.

Templates to be used to carry out each of the project activities will be developed.

The tool used for project management will be the project website.

The project Financial Management include the following activities:

- Support each of the project partners in the project financial management and in the production of financial reports
- Check of the financial reports produced by each of the project partners  
- Production of the financial report of the project to be submitted to the European Commission.

Description of activities carried out:
- Attendance to the kick-off meeting in Florence. Jean-Marc Petit, who attented to the meeting, communicated with the rest of the team about it.
- The second kick-off meeting will take place in RENASUP premises. RENASUP will take care of the stay of all the participants (social dinner, reservation of hotels).
- Attendance to the third partners meeting in Helsinki. Guillemette Duplany, who attended the meeting, communicated the decisions and feedbacks to the rest of the team.

Organization of the sport event in Bordeaux.

Outcomes:
- Attendance to the kick-off meeting
- Forms received and available in French

Evaluation of the work undertaken:
RENASUP is satisfied with every meeting and the project management.