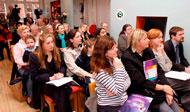 This section is meant to facilitate the sharing of information among partners as far as the dissemination events carried out are concerned.

A description of the event, the number of people participating and the evaluation of the event are available for each dissemination event.
Back to the Dissemination List
click here for the printable version

Partners' Institution:
OMNIA

Name of the person involved in the event:
Kati Valtonen and Petra Hämäläinen

Date of the event:
30 September 2015 - 30 September 2015

Type of Dissemination event:
National Meeting

Description of Dissemination Event:
Oganisation of a network meeting for the sport associations in Espoo region and for the upper secondary schools of Haukilahti and Leppävaara in Espoo. The event was organised by Omnia and in Omnia's premises. One of the hosts was also URHEA, the sport academy in the metropolian area for the top level sport (http://www.urhea.fi/). The project was presented and the associations were invited to join the project. Inofrmative e-mailing was sent to the participants after the meeting. The three schools presented their sport pathways and group discussions were held to develop common understanding and cooperation between sport associations, coaches and schools (principals, study counsellors and teachers of physical education). A coach in gymnastics gave a speech on how to motivate and support young athletes to balance sport, school and the private life.

Target group:
Experts
Sport Organization
Schools
Teachers
Association

Number of people reached by event:
30

Held in:
Espoo (Finland)

Outcomes, Results and Evaluation:
Many interesting points of view both from schools and from sport associations for the NOFP toolkit. Potetial new members for the associated partners's network of NOFP.

Supporting Documents: