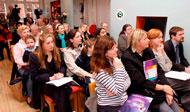 This section is meant to facilitate the sharing of information among partners as far as the dissemination events carried out are concerned.

A description of the event, the number of people participating and the evaluation of the event are available for each dissemination event.
Back to the Dissemination List
click here for the printable version

Partners' Institution:
Istituto Professionale Francesco Datini

Name of the person involved in the event:
Roberto Bellocci Paola Bertini

Date of the event:
11 October 2016 - 14 October 2016

Type of Dissemination event:
study visit

Description of Dissemination Event:
Teachers from SATAEDU, Finland have been engaged in a study visit. During this visit, they contacted other schools, visited Florence Federal Center for Football in Coverciano, and they talked with Datini teachers about sport and school education, reading about NOFP Project and plannig more future activities with italian schools involved in the Project.

Target group:
Teachers

Number of people reached by event:
10

Held in:
Prato, Florence (Italy)

Outcomes, Results and Evaluation:
Brochures and other documents about NOFP Project have been distributed for dissemination in SATAEDU, Finland.

Supporting Documents: