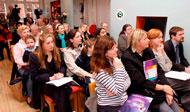 This section is meant to facilitate the sharing of information among partners as far as the dissemination events carried out are concerned.

A description of the event, the number of people participating and the evaluation of the event are available for each dissemination event.
Back to the Dissemination List
click here for the printable version

Partners' Institution:
I.I.S. Rita Levi-Montalcini

Name of the person involved in the event:
Claudio Giovanni Bruzzone

Date of the event:
13 August 2016 - 13 August 2016

Type of Dissemination event:
Article in magazine

Description of Dissemination Event:
CELEBRATED 30 YEARS OF PRESIDENCY OF CLAUDIO Bavazzano At the end of the evenings organized by the Association of Cremolino tambourine big party for the prize of President Claudio Bavazzano which for 30 years has guided passionately managing to win three league titles in the series B.

Target group:
Sport Organization
Schools
Association

Number of people reached by event:
150

Held in:
Cremolino - AL (Italy)

Outcomes, Results and Evaluation:
The tambourine Cremolino Association is a partner of the Institute Montalcini and its president Claudio Bavazzano is an important reference point for sports activities organized by his association .

Supporting Documents: