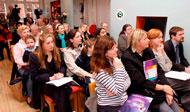 This section is meant to facilitate the sharing of information among partners as far as the dissemination events carried out are concerned.

A description of the event, the number of people participating and the evaluation of the event are available for each dissemination event.
Back to the Dissemination List
click here for the printable version

Partners' Institution:
Centrum Kształcenia Zawodowego i Ustawicznego Nr 1 - Ośrodek Kształcenia Ustawicznego Nauczycieli

Name of the person involved in the event:
Elżbieta Walkiewicz, Joanna Nadratowska-Ptak, Piotr Jaworski, Magdalena Więckowska, Łukasz Bierzyński

Date of the event:
02 June 2016

Type of Dissemination event:
Conference or Fair

Description of Dissemination Event:
CKZiU Nr 1 - OKUN in cooperation with the Baltic Sea Cultural Centre in Gdańsk organized a conference named "The Art of Teaching. A Debate on Tolerance". During the conference a poster session about the "Not Only Fair Play" project was arranged. We presented the project results with special focus on promotion of the ethical approach to sport and physical education at schools. The announcement about the conference and about the poster session was published on the co-organizers' websites and in the listings magazine of the Baltic Sea Cultural Centre.

Target group:
Enterprises
Experts
General Public
Public Bodies
Schools
Teachers
Training Agencies
Universities
Association

Number of people reached by event:
85

Held in:
Gdańsk (Poland)

Outcomes, Results and Evaluation:
Conference participants were given the information about the NOFP project. They had the opportunity to familiarize with the NOFP aims, target groups, partners, associated partners, main activities, results, incl. network of schools, database of students' success stories, database of best practices and toolkits. They had also possibility to reflect on an ethical aspect of doing sports in a wider, social context through debate on tolerance.

Supporting Documents: