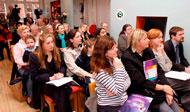 This section is meant to facilitate the sharing of information among partners as far as the dissemination events carried out are concerned.

A description of the event, the number of people participating and the evaluation of the event are available for each dissemination event.
Back to the Dissemination List
click here for the printable version

Partners' Institution:
OMNIA

Name of the person involved in the event:
Petra Hämäläinen

Date of the event:
09 March 2016 - 09 March 2016

Type of Dissemination event:
Planning day in Omnia vocational school

Description of Dissemination Event:
Planning day for the teachers in Omnia vocational school. The aim of the day was to plan various events in Omnia for the spring. One part of the day was dedicated for planning sport events. At this occasion Petra introduced the NOFP Project and the toolkits that were meant to support the planning.

Target group:
Schools
Teachers

Number of people reached by event:
60

Held in:
Espoo (Finland)

Outcomes, Results and Evaluation:
More knowledge about the Project and its outcomes among the teahers and directors in Omnia.
Concrete sport events that were organised in cooperation with many teachers during spring 2016.

Supporting Documents: