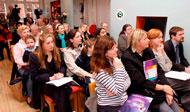 This section is meant to facilitate the sharing of information among partners as far as the dissemination events carried out are concerned.

A description of the event, the number of people participating and the evaluation of the event are available for each dissemination event.
Back to the Dissemination List
click here for the printable version

Partners' Institution:
I.I.S. Rita Levi-Montalcini

Name of the person involved in the event:
Managerial team of Montalcini school with managerial team of datini school

Date of the event:
02 January 2016 - 02 January 2016

Type of Dissemination event:
Transnational Meetings

Description of Dissemination Event:
In Alessandria, Italy, Managerial Team of Montalcini and datini meet the most important cultural musical society of Alessandria district to present the NOFP project to the Vietnam community in Italy.

Target group:
Experts
Schools
Association

Number of people reached by event:
20

Held in:
Alessandria (Italy)

Outcomes, Results and Evaluation:
Informative advertising to other association of different country

Supporting Documents: