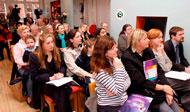 This section is meant to facilitate the sharing of information among partners as far as the dissemination events carried out are concerned.

A description of the event, the number of people participating and the evaluation of the event are available for each dissemination event.
Back to the Dissemination List
click here for the printable version

Partners' Institution:
INFOREF

Name of the person involved in the event:
Christine Cloes and Martine Prignon

Date of the event:
01 June 2015

Type of Dissemination event:
National Meeting

Description of Dissemination Event:
Emmanuel Chaumont is responsible for the physical education sector of FESeC (Federation of Catholic Secondary Education). He is also a physical education teacher at "Centre Scolaire Saint-François-Xavier" in Verviers. Danièle Closset is deputy director of "HELMo Loncin", the section of HELMo (Haute École Libre Mosane, near Liège) that trains physical education teachers. They were invited to Inforef to be informed about the "Not Only Fair Play" project. They received a detail presentation of the project objectives and activities as well as the school documents (1;A, 1.B and 1.C) and a temporary version of the brochure.

Target group:
Experts
Public Bodies
Training Agencies

Number of people reached by event:
3

Held in:
Liège (Belgium)

Outcomes, Results and Evaluation:
"FESeC" and "HELMo Loncin" committed to support Inforef at all steps of the project. In a first phase, they will provide best practices and case studies and will contact relevant schools to be involved as well as potential associated partners.
Several schools responded with enthusiasm and and shared their initiatives with us.
Centre Scolaire Saint-François-Xaviers has been involved as an associated school.

Supporting Documents: