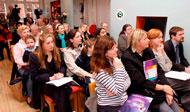 This section is meant to facilitate the sharing of information among partners as far as the dissemination events carried out are concerned.

A description of the event, the number of people participating and the evaluation of the event are available for each dissemination event.
Back to the Dissemination List
click here for the printable version

Partners' Institution:
Bilecik Provincial Directorate of National Education

Name of the person involved in the event:
Mustafa KAN- Leyla KALIN from R&D department.

Date of the event:
10 November 2015 - 12 November 2015

Type of Dissemination event:
National Meeting

Description of Dissemination Event:
A National Meeting of "Students Learning About the EU" project run by the Ministry of Education. A national meeting arranged in Ankara tha capital at Limak Ambassadore Hotel. Project brochures were delivered to the participants of the training.

Target group:
Experts
Teachers
Universities

Number of people reached by event:
190

Held in:
Ankara (Turkey)

Outcomes, Results and Evaluation:
There were 180 participants from 81 cities of Turkey and they rae mainly project experts. There were about ten professors from different universities. During activities we can find chance to deliver our project brochure in Turkish to akk participants and the speakers. They all were interested, for example Bülent Özcan the ex-president of Turkish NA and current deputy minister of Ministry of EU was really delightful about our project and said wonderful words on it.

Supporting Documents: