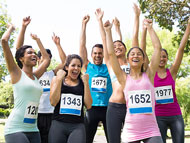 Collection of initiatives aiming at promoting:
awareness of importance of sport at school level
social inclusion and prevent early school leaving
an ethical approach to sport
all types of sports at school level

Title of the initiative:
Video STEP

Web site of the initiative:

Date of the Event:
November 2014

Country:
France

City:
Lille

Aims:
promotion of all types of sports
promotion of awareness of importance of sport at school level
promotion of social inclusion and prevention of early school leaving through sport

Description of the initiatives:
This initiative was organized by Olivier BONNET.
It took place in Ozanam high school in Lille during the "Personalised Help" classes.

The initiative was meant for volunteers from year 11 who chose to do STEP during six sessions and was mostly intended for girls because Ozanam high school has a great number of male students. It allowed female students to be together for a physical activity that was not part of their usual timetable.

They discovered STEP and how the physiological impact of the activity was beneficial on their physical condition.
Then, they learnt to accept the look of others upon themselves with a video of their evolution.
The participants were divided into groups of three and they learnt together the different steps in order to be ready for the video.

They transformed an individual activity to a collective one during which each advanced participant had to help the others.

The final test was a filmed choreography and the aim was for the participants to remain synchronized.
The initiative was not graded and the only objective was to take pleasure in this challenge and go beyond the look of others.
Success, pleasure, effort, mutual aid and self-esteem were the keywords of this initiative.

Supporting Documents: