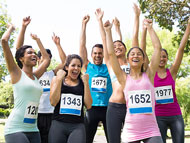 Collection of initiatives aiming at promoting:
awareness of importance of sport at school level
social inclusion and prevent early school leaving
an ethical approach to sport
all types of sports at school level

Title of the initiative:
Sports Science Fair Project Ideas

Web site of the initiative:

Date of the Event:
2002-2015

Country:
Belgium, Bulgaria, Finland, France, Italy, Poland, Romania, Turkey, United Kingdom

City:
NA

Sport:
Baseball, Basket, Football, Hockey, Multi sports, Tennis

Aims:
promotion of awareness of importance of sport at school level

Description of the initiatives:
The initiative offers science fair projects ideas related to soccer, baseball, football, tennis, hockey, and more.
It shows there are many interesting ways to apply science to sports. Who knows, by thinking scientifically about your favorite sport, your science fair project might even help you become a better athlete!
It shows the importance of science knowledge in sports and shows sports as an activity which has a lot to do with the way school students learn. The initiative promotes also the importance of sports in terms of health.

Supporting Documents: