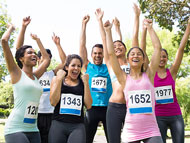 Collection of initiatives aiming at promoting:
awareness of importance of sport at school level
social inclusion and prevent early school leaving
an ethical approach to sport
all types of sports at school level


Title of the initiative:
"Sport élite" school section

Web site of the initiative:

Date of the Event:
Always

Country:
Belgium

City:
Liège

Sport:
Badminton, Football, Hockey, Rugby, Swimming, Tennis

Aims:
promotion of awareness of importance of sport at school level
promotion of social inclusion and prevention of early school leaving through sport

Description of the initiatives:
The "sport élite" section of Collège Sainte-Véronique offers students the possibility to combine a curriculum in their chosen option (Latin, mathematics, sciences, economics…) and the intensive practice of their sport thanks to an adapted timetable to follow all the courses.

Three or four times a week, those sportive students leave school in the morning or afternoon, under the supervision of their club or federation, to participate in the first practice of the day. Those students are followed by a team of teachers and a study session is organised at 15h50 (for those who have no more classes) until the second practice of the day.
The student can also receive a planning of work during important competition or tournaments abroad. This combined training requires organisation, discipline and some maturity.

The success of this initiative is based on a strong cooperation between the sport leaders, the school, the students and their parents.

Iniziative in national language

Supporting Documents: