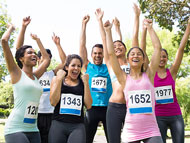 Collection of initiatives aiming at promoting:
awareness of importance of sport at school level
social inclusion and prevent early school leaving
an ethical approach to sport
all types of sports at school level


Title of the initiative:
Big Steps Project

Web site of the initiative:

Date of the Event:
2014-2015

Country:
Turkey

City:
different cities of Turkey

Sport:
Archery, Athletics, Basket, Bike & run, Cycling, Football, Golf, Gymnastics, Martial Art, Multi sports, Rowing, Swimming, Tennis, Volleyball, Winter Sports

Aims:
promotion of all types of sports
promotion of an ethical approach to sport
promotion of awareness of importance of sport at school level
promotion of social inclusion and prevention of early school leaving through sport

Description of the initiatives:
This project was started to promote development of sports activities, raise the awareness on sport and help dissemination by the ministry of Youth and Sport.
At monthly activities will be hold according to Big Steps Project; sportsman, coaches, sports directors, sportsman from universities, people from sports media will meet with young people at sports meetings.
By the help of the project, the popular sports people from national teams, as they are seen a good example for the youth, could find chance to meet them to share their experiences.

Supporting Documents: