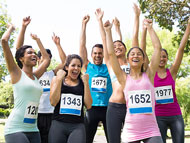 Collection of initiatives aiming at promoting:
awareness of importance of sport at school level
social inclusion and prevent early school leaving
an ethical approach to sport
all types of sports at school level

Title of the initiative:
Dundee Academy of Sport

Web site of the initiative:

Date of the Event:
Feb 2013 - ongoing

Country:
United Kingdom

City:
Dundee

Aims:
promotion of all types of sports
promotion of an ethical approach to sport
promotion of awareness of importance of sport at school level
promotion of social inclusion and prevention of early school leaving through sport

Description of the initiatives:
The Dundee Academy of Sport is a new and exciting project funded by the Scottish Funding Council, delivered by Abertay University in partnership with Dundee & Angus College. We strongly believe in the value of using sport as a vehicle for learning across the school curriculum and throughout life. We also trust the value of Continuous Professional Development to ensure that the sports community are as skilled as possible to deliver sport and physical activity opportunities.

This, coupled with the health and wellbeing benefits derived from leading an active lifestyle, make sport and physical activity a key part of education and life. Therefore we want to support the community in developing the key skills and knowledge needed to create lifelong participation in sport and education.

Working with partners, the academy will be the delivery mechanism to bring these learning experiences to life using sport and physical activity as a context for learning. Our work will therefore cover widening access to education and sport, alongside workforce development.

Schools Projects: the Dundee Academy of Sport works alongside colleagues in partner schools to develop a programme of learning opportunities, which link the participation in sport/physical activity to other areas across the school curriculum. Sport can be a vehicle for developing an active learning approach; the Dundee
Academy of Sport will explore the linkages between curriculum areas and sport whilst fostering the pupils' enjoyment and attainment of subjects by providing the spark to light imagination and bring subjects to life.
Imagine learning French whilst cycling through the Loire Valley, studying angles during a badminton lesson, or finance through negotiating a footballer's contract. The Dundee Academy of Sport will develop and deliver active learning opportunities through sport & physical activity. During 2013/2014 we worked with 27
Schools and around 2500 pupils. We aim to increase the scope of our school work during 2014/2015 to include 4 more clusters and a total of 50 schools. Feedback on our work from pupils and teachers has been extremely supportive with our work contributing to achieving many Curriculum for Excellence Experience and Outcomes. We plan each session in partnership with the class teacher to ensure that outcomes can be achieved along with linking the lesson(s) to pre and post learning opportunities. Throughout all our work we champion the participation in sport and physical activity.

Supporting Documents: