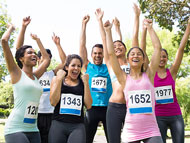 Collection of initiatives aiming at promoting:
awareness of importance of sport at school level
social inclusion and prevent early school leaving
an ethical approach to sport
all types of sports at school level

Title of the initiative:
After Match Project – Fair Play on the Stands

Web site of the initiative:
n.a.

Date of the Event:
2009 period of school activities

Country:
Italy

City:
Prato

Sport:
Multi sports

Aims:
promotion of an ethical approach to sport

Description of the initiatives:
Promoter: Macramè Cooperative

Participants:
15 secondary schools in the Province of Florence and Prato
40 Sports Associations
4 Youth Centres
10 Youth Associations
3 Supporters' Union of professional teams
C.O.N.I.-Provincial Committee of Florence

The project has, among its aims, to highlight good practices among those who attend sports events and among those who have to deal with young people in stadiums and sports arenas as supporters.

General objectives:
• To improve young people and sport trainers' knowledge of particularly significant ethical, civil and social sport experiences.
• To compare visions and different worlds on concepts of social relevance such as respect for the law, tolerance, non-violence.
• To promote a network of public bodies, Sports and Social Associations and Schools on sport topics aimed at a permanent exchange of experiences and at the promotion of discussions and conferences on the topic of the right cheer in stadiums.

Specific objectives:
• To promote the idea of " right cheer" in the name of Fair Play
• To spread the ideas of respect for the law and non-violence
• To develop the positive aspects of membership and participation in the phenomenon of sport support
• To make schools aware of the value of sport as an educational, inclusive and social value activity
• To celebrate diversity as a treasure to be shared and highlight the potential of sport in promoting the meeting and the integration between different cultures

Phases:
The project provides for the organization of a competition for short films dealing with topics such as the concept of Fair Play, the promotion of the respect for the law, the fight against racism and the rejection of violence.
• At first, the idea of the project is shared and the willingness of stakeholders to work together is gathered
• Subsequently the competition is properly advertised
• In the time allowed for the making of the short films, the promoters offer their willingness to take short training courses on the topics related to the competition
• At the end of the project a final day is organized. It includes a round table on "Fair Cheer" and the awarding of the winning short films.

The project involves the use of many skills: psychologists, sociologists, teachers, social workers, community leaders, professionals and sports managers. These people are all involved in the different phases of the project, from the moment of its planning to the training programs of the participants in the competition and the evaluation of the short films.

Supporting Documents: