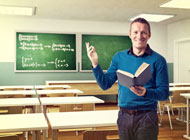 Teachers of all subjects can contribute to promote sport at school
How to Motivate Students Only Interested in Sport to Improve their School Performances
Teachers of All Subjects

7. Coordinate with sport leaders to foster double success
Organise meetings with the coach to adapt the timetables, monitor the student's progress in sport and at school.
Invite the coach or sport coordinator to participate in the class council.
Integrate a sports note in the report (based on the student's motivation, their commitment in the activity, their progress and behavior).
Implement a contact tool such as the "training and contact book" used in French-speaking Belgium (see resources). This tool enables communication between the athlete, their family, the coach, their sport federation and the school they attend. It interrelates useful information about the sport and school life for the best integration possible. The Belgian diary includes among other a calendar of practices, a timetable of lessons, spaces for comments by the parents, the sport referent at school and the sport referent from the sport club or federation, spaces for communication to parents, the athlete's chart, spaces to request absences in case of competition or activity, personal data. This tool is signed by all the stakeholders. It is part of the student's school file.
Learning Objective
The learning objective of step 7 is to give examples and ideas for developing the cooperation and interaction between schools and sport clubs' coaches.
Online Resources