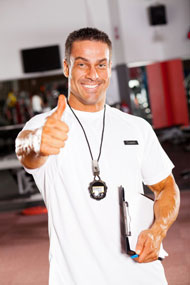 They are the main point of reference for students at school
Back to the Physical Education Teachers Toolkits
How to Promote Less Popular Sports
Physical Education Teacher

8. Inclusive sports and activities in PE teachers' practice
The main aim of this issue is to raise awareness of opportunities provided by inclusive sports and to increase participation of disadvantaged groups of students. The various problems of exclusion may occur both in mainstream schools (including integration classes) and special schools dealing with disabled students.
The need to take inclusive approach concerns different groups of students, e.g. disabled and special needs students, teenage girls (who are frequently put off by PE outfits which make them feel "ugly"), obese children and students experiencing bullying in changing rooms because of their nationality or religion.
The motto for inclusive approach should be "there is a sport for everyone". By putting enjoyment at the centre and emphasis on the ability not the disability, teachers create engagement and positive experiences which help young people build their confidence through sport.
PE teachers have a wide range of tools which help them to integrate of school community. From open activities (everyone doing the same activity without adaptation), modified activities (changing rules, space and equipment), parallel activities (division of groups according to ability) to separate activity performed individually. There is also an option to apply "reverse integration" when able-bodied students play disability sports.
Cooperation with other subjects teachers (ICT, Art, History, Geography, Science) shall help PE teachers to increase awareness of Paralympic sports, provide inspiration for cross curricula initiatives, develop students' creativity and imagination, as well as make them more sensitive, tolerant and emphatic.
By establishing collaboration with parents and external organizations dealing with the above mentioned less favoured groups of people, PE teachers gain partners who can support schools in terms of experience, expertise and sponsoring of sporting events.
Learning Objective
The learning objective of this step is to raise awareness of opportunities provided by inclusive sports and to develop teachers' skills to integrate the school community by increasing participation of disadvantaged students in physical activities and sports.
Online Resources